2019 Rewind!
Hola people! I am back in town. It's been a long time I haven't written something (was hell lot busy these days; exams). Its December end and 2019 is about to get over. 2019 was an important year for me, this year I got recognition as a blogger, tech reviewer, content writer. There are so many things that happened this year from being nominated as Blogger of the month, being a nominee of Young leader awards, to having the worst depression, this year gave me a bombastic experience. I will try to cover every inch of an incident that occurred this year followed by experiences of some of my close friends as well. So, let's wrap 2019!
First Quarter of the year seeded my tech zeal into a tree, these were the months where I joined Digit Squad (Community of tech enthusiasts powered by Digit.in)
This was the time of year where I got to know how important is to interact with the outer world and how isolation was killing me from inside.
I went to college fest in January for the very first time and the experience was amazing. Hanging out with friends is always fun and that too with a school friend. I was so charged up that attending one fest was not enough for me and I attended almost 12 college fests!
This time also saw revamping friendship with one of my school-mate who was just a hi-hello friend but now we spend a good time together. I attended YouTube Fan Fest 2019 and I must tell you that this was the best time of my life, meeting so many YouTubers and I can't forget the moment I meet Carryminati and Aksh Baghla. These months also saw my uprooting hidden talent of content writing which proved both great and fatal.
Second Quarter saw my first participation in a hackathon but miserably failed as this was my first time and we were competing against industry people who had years of experience in their respective fields.
I went for two trips, one to Kheer-Ganga and second to Vrindavan which broke my 6 years record of not going anywhere!
I was invited for So Delhi's blogger conference which I see as a positive aspect of content writing. After these trips, some things happened that disturbed me mentally. These things are very personal and I don't want to recreate them here publicly. It was a terrible phase for me and I still regret that but I am thankful to some people who stood by me in that scenario but to be honest, I can't forget them now as well. Months went vain, and I isolated myself. If I had to describe that situation this song perfectly fits in:
"I know you were trouble when you walked in" - Song by Taylor Swift
But when college reopened, I got another shock when I was separated from all my old buddies. Though I knew this from beginning but things got out of hand when I had no-one to talk with (only a few oldies were taking initiative). I wrote an article about this also. Check it here. But as time passed, some people came to my life, and I was on track. I had my best time with these people and finally I got some support (especially mentally). With all the support, I gained some confidence and went to more events. I went to IMC (Indian Mobile Congrees) 2019 and last year also.
I was invited to Lenovo's gaming event where I meet my favorite streamer in person, that was Cosmic YT. Check out my article regarding Lenovo Event here.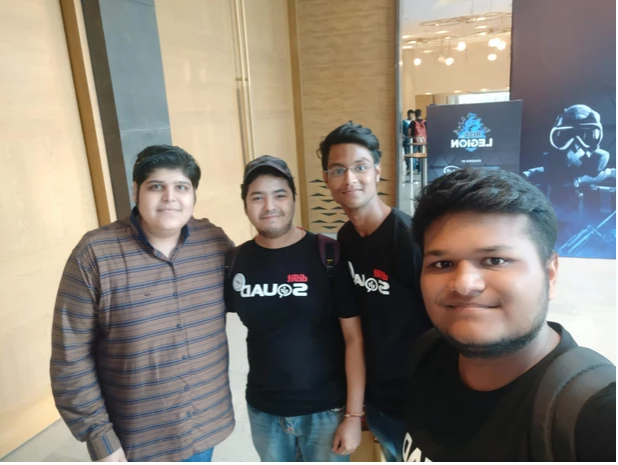 Now proceeding to third Quarter which was both fun and depressing, as at one side I was in my comfort zone of attending tech only events. I went to my first industrial visit. Link for that article is here.. My first sessional exams hit me hard. I was on the verge of failure but somehow got over it. This may pass with ease but it had a negative image on me and I did so many wrong things (again can't be disclosed here). I avoided people I don't want to write anything else about this…
In the fourth quarter, all things went smoothly. I participated in Hactoberfest and received amazing goodies.
I went to a new place on my own with my schoolmate. We explored the city, attended the event and came back forth on the same day. It took us 12hrs only for traveling and we didn't sleep that day.
I also went to see racing at Buddh International Circuit, Greater Noida. It was a great experience especially when tickets are pre-sponsored!
The last event I attended was Digit ZERO1 Awards and it was a great time. I meet the CEO of Realme brand, Madhav Seth. It was that fan moment that can't be expressed in words.
This year was also the end of some long-lasting friendships. Some of them were there from beginning since childhood but anyway people come and go.
I think that's all I can think of 2019. Although I can't remember more things which happened with me this year/ I can't reveal some of them, but while writing this article I became so nostalgic! Ah, what a year it was. I don't believe in making resolutions but if I had to make for 2020, that would be more of myself and not being someone else. Thanks to everyone who came to my life this year and made my year more exciting and positive. Now it's the time when some of my pal would like to share their part of how they feel about the year 2019:
Anmol
Acha tha yeh saal, masti kari full June takk toh uske baad thoda future ke baare me sochna start kiya. Jaise he 2nd year start hua toh web development kari, then uske baad socha ki Amazon wagera me select hona hai toh kuch toh karna padega, fir competitive coding start kari: Codechef,GeeksForGeeks, Hackerrank) No doubt ki bahut dikkatein aayei, ab bhi aa rhi hai but karni toh hai. Aur bus is baar ghumne kaam gya bcoz 1st year bahut enjoy kar liya. Ek wish thi vo abhi takk complete nhi hui (Maybe ess saal ho jaye). Baaki jyada time roomate kae sath he bitaya, uski baatein sun sun kae aur to bus normal hi tha sabb. Nye saal mein I hope kuch acha aur exciting ho.
Saumya
This year has been a year like never. One of the defining moments of my year was when I went for my first international trip to Thailand and visited so many beaches which is my favorite place. I overcame my fears and did para-sailing which was a lifetime experience and a memory to cherish forever. I attended a marriage without my parents which was something different. On my 19th birthday I have alcohol for the first time, it was so bitter, I don't know why people love it so much.
For a person who was not allowed out of the house after 7 pm alone or with friends but that changed this year when I attended a late-night concert with my friends. This year was a roller coaster ride and I can say I loved it thoroughly.
Radhika
2019 went great. It was the year when I went to my first competition, My first hackathon, My first participation in a college event (Hult Prize). This year was also a roller-coaster for me as so many things happened simultaneously. I broke so many times. Many friendships broke this year. But it was a good year with loads of good memories.
Nischint
If I would have to give a title to 2019, for me it was a "TRANSFORMATION YEAR". I learned that working and growing in solitary cannot be called loneliness. Giving time to yourself for your growth is always fruited-full whether or not someone stands along with you you should become that much stiff that leaving someone from your life shouldn't bother you. Remember, someone stays or not…life still goes on. It's your choice what you make out of yourself after your difficult phase-a warrior or a broken person.